Have you ever stopped to think about Mary's relationship with Jesus?
Not just her status as "mother of the Son of God…" but her intimate role as Jesus' earthly mom. Every year, at Christmas, I find myself thinking about Mary. So many things about her response to the call of God on her life inspire me, and make me reflect on the state of my own heart. Mary was a good, if imperfect, mother to Jesus. Sometimes she got it, other times she missed the mark, but these verses from Luke 1:46-49 give me insight into her heart…
"And Mary said, 'My soul magnifies the Lord, and my spirit rejoices in God my Savior, for he has looked on the humble estate of his servant. For behold, from now on all generations will call me blessed; for he who is mighty has done great things for me, and holy is his name."
There are a few things from these verses, spoken by Mary as she visited her cousin Elizabeth—also miraculously with child—that we can take away and use as our foundation as we make our way through this Advent season…
What Mary Teaches Us About Following God at Christmas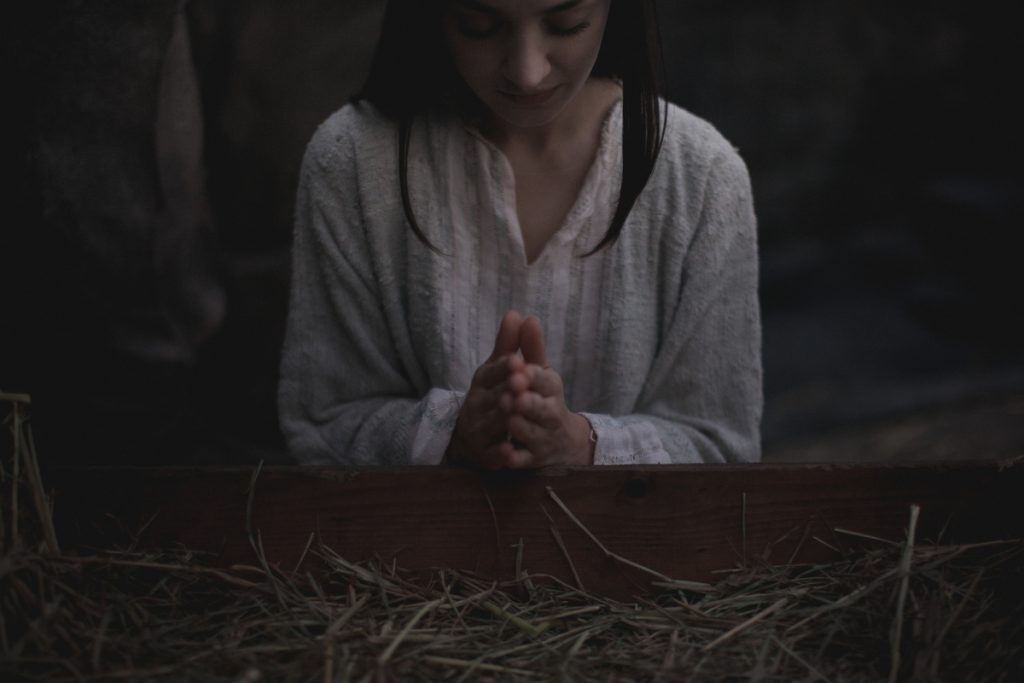 1. MARY'S GREATEST DESIRE WAS FOR HER LIFE TO MAKE GOD LOOK GOOD
That's what, "my soul magnifies the Lord" means. To "magnify" means to make something appear larger than it is. Mary was committed to allowing her life to make God look good to those around her. No matter the personal cost.
2. SHE KNEW HER SALVATION CAME FROM THE LORD
She would be the mother of the Messiah, but Mary understood that salvation didn't come from her. Her baby was a gift from God for God's people, including her. With all the judgment, gossip, malicious glares and stares she knew would come her way because of the circumstances of His birth, these words of Mary's mean even more. She could endure it all because God was her salvation.
3. SHE KNEW HER HUMBLE ESTATE
In Mary, God proved His tendency to use "…what is foolish in the world to shame the wise… what is weak in the world to shame the strong" (1 Corinthians 1:27). Born of a poor, probably outcast family, there was nothing special from a worldly perspective about Mary that would have singled her out for God's favor… and she knew it. Yet, God used her to bring His Son into the world. So it is with us. Having a right understanding of our humble estate— that our hearts are wicked, not basically good, and in desperate need of a Savior—gives us a right understanding of God's grand estate. Out of that proper perspective is birthed a humble heart that God can use.
4. SHE UNDERSTOOD THAT SHE WAS BLESSED BECAUSE GOD IS MIGHTY
Mary wasn't blessed because of anything good in and of herself. She was blessed because God had chosen her body, her life, through which to accomplish something amazing. If we have anything good to give, it's because God gave it of Himself. Our greatest blessings come when we keep your eyes on HIM, and off of ourselves. As Mary prepared her heart for the difficult journey ahead, knowing the character and trustworthiness of God was of the utmost importance. In my book, Gospel Centered Mom, I say this: "We have to know who God is in order to trust Him fully. Unless we know Him well, we'll make Him what we want Him to be, creating a God in our minds who doesn't exist on the pages of the Bible. God says, "Trust Me, not yourself. All you really need is Me. I'll be enough for you."
Mom, your job is a hard one. Loving children… raising them to know the Lord… prayerfully protecting each step and decision they make… these things are no easy task. We must have the proper knowledge of Who God is in order to do the job well.
SOMETHING TO THINK ABOUT
As we move into our season of prayer and learn more about the kind of mom Mary was to our Savior, let's take a moment to check our hearts against what we now know to be true of the one God called highly favored among women.
SOMETHING TO PRAY
Lord, You're enough for me. This Christmas, help me to reflect on all that you are, and give me the proper perspective from which to make a difference in the heart of my son as I pray. In Jesus' Name, amen.
This episode is brought to you by our FREE series, Mary Prayers: 5 Prayers for a Mom's Heart.
Tune in to this 5-devotional series on the Million Praying Moms Podcast, or sign up here to get them all delivered to your inbox, absolutely free!