Our Mission for Moms
Learn to partner with God in your parenting by making prayer your first and best response to the challenges of motherhood. Join author, speaker, and podcaster, Brooke McGlothlin, at the intersection of prayer and parenting for today's Christian mom.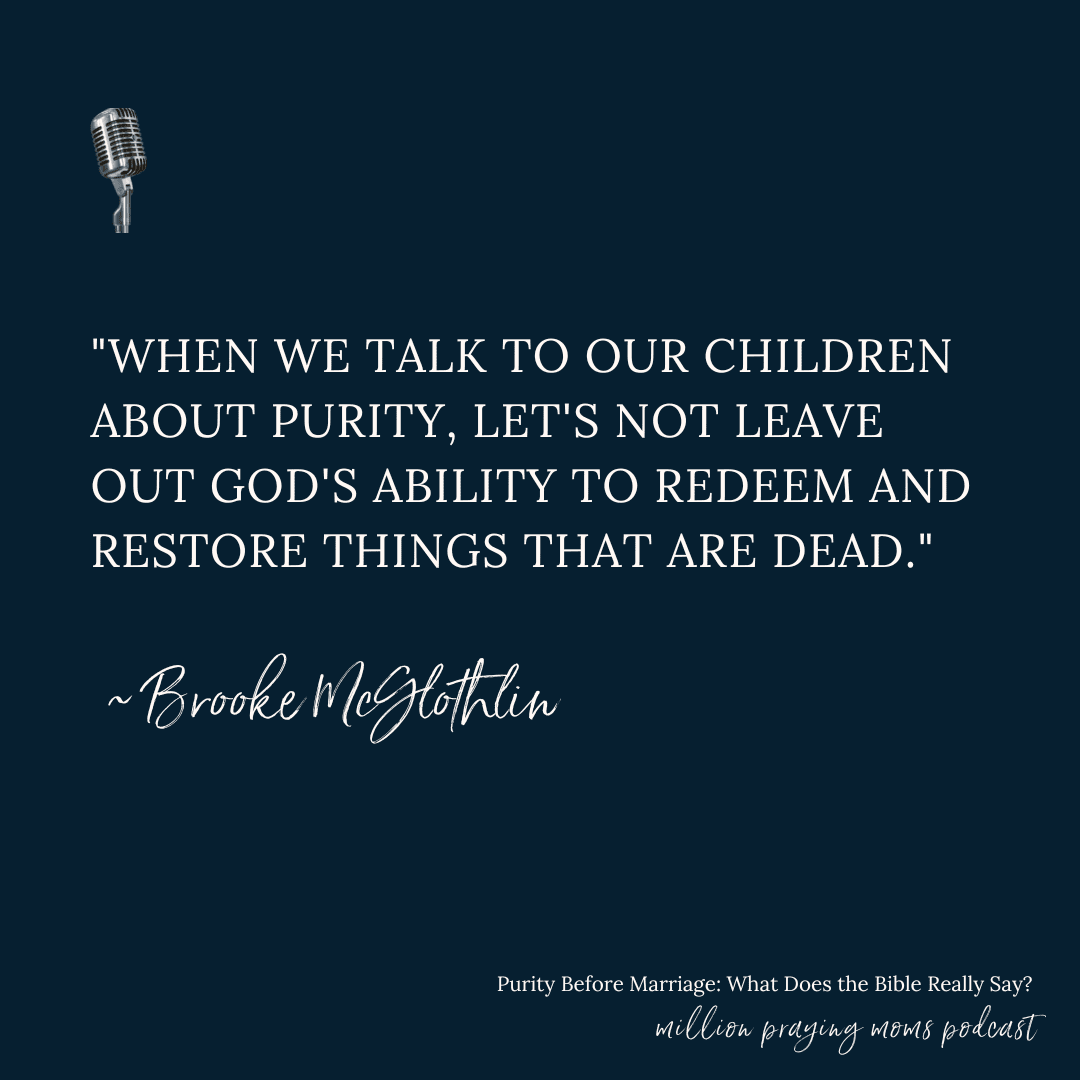 I am a child of the 90s, and I vividly remember going to a True Love Waits rally where the speaker held up beautiful rose and slowly began tearing its petals off one by one until there was nothing but an ugly stump left. Of course, this was meant to illustrate what...
Get a FREE Copy of Brooke's Resource for Parents!
When you subscribe to the Million Praying Moms Podcast email, you will automatically receive this popular resource from Million Praying Moms founder, Brooke McGlothlin, How to Pray God's Word for Your Children! It isn't rocket science, it's a step-by-step guide to praying scripture for our children that Brooke has used in her own home with her boys for almost 17 years. Brooke has helped over 50,000 women go deeper in their prayer lives over the last decade +. Take the next step in your prayer journey and get your copy FREE when you subscribe to the Podcast email!
What's Really at Stake if We Don't Pray for Our Kids?
Praying Mom was sparked by a simple question to thousands of moms: "If you believe you should be praying but you aren't, why not?" Their answers revealed seven common challenges and beliefs moms have, including:
· I don't know what or how to pray
· I don't know if my prayers really matter
· I can't pray until I get my life together
· I'm so busy!
The answer Brooke McGlothlin has seen in her years as a prayer mentor is to pray Scripture over your family and yourself. God's Word is living and active (Hebrews 4:12) and does exactly what God purposes (Isaiah 55:11). This means nothing is more powerful and faith-building than praying God's Word for those you love. Complete with prayers for specific everyday situations, this book will have you making prayer your first and best response to every aspect of family life.
Take the Challenge!
James? Proverbs? 1, 2, & 3 John? Psalms? Choose the starting place that best suits you, or the book whose theme best suits your family's needs, and just keep praying until you've prayed through the entire Bible for your family! Through Patreon, we provide an easy-to-use, monthly prayer calendar. Each calendar will either walk you through a book of the Bible entirely, or be a part of a series going through an entire book (for the lengthier books). Learn more by clicking the button below!
Our Method of Daily Prayer
When I first started praying for my own children, I was inspired by two important truths about God's Word:
1. That it is "living and active, sharper than any two-edged sword, piercing to the division of soul and of spirit, of joints and of marrow, and discerning the thoughts and intentions of the heart (Hebrews 4:12, ESV).
2. That it "shall not return to me (God) empty, but it shall accomplish that which I purpose, and shall succeed in the thing for which I sent it (Isaiah 55:11, ESV).
If those two verses were true, and I believed they were, then it seemed to me that there could be no better thing to pray than God's Word itself! Because this experience was so deeply profound for me, it's the same one I've used to teach other women to pray! I call it my "Think, Pray, Praise" method. It isn't really rocket science, just a practical, biblical way to pray the Word of God over yourself or the people you love. It's also the method we use inside of  our prayer journals! Let me walk you through what it is step-by-step (with pictures)!
Created by Brooke McGlothlin
(formerly The MOB Society)
Brooke is the cofounder of Million Praying Moms, and author of 5 books, including her latest, Praying Mom: Making Prayer the First and Best Part of Motherhood. She's a wife and mom to two teenage boys who make their home in the mountains of Appalachia, calling southwestern Virginia home. To learn more about Brooke visit her blog.